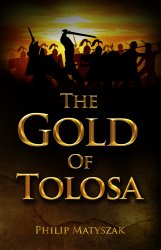 Meet Lucius Panderius, war hero, connoisseur of fine wines and Germanic prostitutes - and the perpetrator of the biggest gold theft in history. This first novel by well-known writer and historian Philip Matyszak takes us from the mean streets of Rome to the even meaner streets of Gallic Tolosa in a journey filled with ambush, intrigue, battle and double-cross.
In 105 BC Rome is faced with extinction, both from a huge army of invading barbarians and by a dark curse that has been festering for generations. It falls to Lucius Panderius to avert both threats, and incidentally to make himself richer than Croesus. Though fiction, the Gold of Tolosa is historically accurate and explains how enough loot to recapitalize a third-world economy was taken in a theft that really did happen.
Whether Lucius is crossing swords with barbarian warriors or Roman magistrates, the pace is never less than frantic, and ancient Rome has never been more fun ...
'Great atmosphere, a good story, and a strong sense of fun all combine to make this a wonderful excursion to the world of Republican Rome.'
Adrian Goldsworthy, author of 'Caesar: Life of a Colossus'
'Fun jaunt through the bloody landscape of late Republican Rome.'
Ancient Warfare Magazine